Subscribe to
IT Best Practices.
STAY CONNECTED
5 Ways NaaS Can Free Your IT Team
As technology has advanced and new tools have emerged, life has become easier for your customers and more profitable for your business. However, the job description for IT professionals has grown longer and longer! In many cases, the workload has blossomed into more than most IT departments can handle and their plate is overwhelmingly full.
Even so, it remains vital that the work undertaken by your IT department is done correctly and promptly. What's the solution here? Providing a relief valve that takes undo pressure off your team is key to ensuring your IT department and company run smoothly. This is why many companies have turned to the leading cloud service provider, Global IP Networks, to get the work done for them.
Global IP Networks has provided managed IT solutions across the nation for more than 17 years. We provide managed IT support, cloud services, and network security all across the area. We bring a wealth of experience to the table, and we offer the IT skills your team so desperately needs—without downtime or disruptions.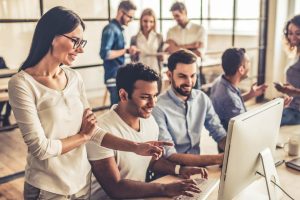 NaaS: Your IT Team's Secret Weapon 
Switching from a conventional IT service department to NaaS (network as a service) will dramatically improve the output of your entire company along with your IT professionals. Here are five of the ways that using Global IP Network's NaaS solutions will help your business remain efficient and competitive in today's technology-driven economy.
1. Predictable, Stable Cost Savings
The NaaS offered by Global IP Networks has a tiered pricing model, which means that you only pay for the services you need. It also means that once you have decided on the plan that meets your needs, your monthly IT costs will be predictable and stable.
More importantly, your business will benefit from the cost-cutting advantages of using NaaS. Once downloaded and implemented, the service will find inefficiencies and redundancies and alleviate them. The team of IT experts at Global IP Networks strives to keep your business humming at peak efficiency and make your IT budget a reality.
2. Greater Efficiency Equals Greater Performance 
The skilled and knowledgeable team of IT experts at Global IP Networks know how to keep your business' network running without threat intrusion or inefficiencies. Our team of NaaS specialists has the experience and knowledge to boost uptime and lead your company to achieve better performance across the board. They will also adapt the NaaS to meet your company's specific needs to ensure that your staff has access to the critical systems—without downtime or disruptions—when they need them most.
3. Increased Security 
Network security is a growing concern. Data breaches and ransomware attacks have become more common and the damage done has been devastating. Keeping a close eye on your network's security requires constant monitoring and updating of firewalls and antivirus software.
Those responsible for your network security must also stay up-to-date on new techniques used by hackers and how to combat them. That's a full-time job for an entire team of security experts, and it's definitely too much for your already overworked IT department to take on, especially because it is so vital that it be done well.
The NaaS experts at Global IP Networks will monitor your network for potential or current issues and respond immediately — before damage is done. The team assigned to your company will include network security specialists who do have the time and knowledge needed to keep current on threats and how to avoid them.
To prepare for the worst, Global IP Networks can also provide you with a disaster recovery plan to quickly stop the loss of data and repair any damage that may have been done.
4. Around the Clock Support 
Global IP Networks can also take the burden of end-user support off the shoulders of your IT team. You'll receive 24/7 end-user support as well as troubleshooting services. If an issue needs to be addressed, Global IP Networks' tenacious team of IT experts can do it remotely, leading to faster resolutions and less downtime, regardless of the day or time.
5. Protection of Your Most Important Resource: Time 
Perhaps the biggest advantage of using Global IP Networks' NaaS is that it frees up valuable time. Whether it's freeing up your IT staff so they have the time to handle other issues or removing downtime from the rest of your staff's day, the extra time will pay off in:
Increased production
Improved focus on mission critical tasks
Time for greater quality control
Decrease in errors due to deadline pressures
Improvements with cross-department communications
Stress reduction for the IT staff that will affect the whole company
Adaptability and Resiliency Lead to Long Term Success 
Global IP Networks is the premier provider of managed services across the United States. We are dedicated to finding the IT solutions clients need and, most importantly, we have the expertise and drive to get it done. We know exactly how hard it is for a company to stay on top in today's highly competitive marketplace, so we are completely committed to providing our clients with the adaptability and resilience they need to meet whatever challenges may come their way.
Save time and money, and improve network security when you request a NaaS quote today. It's easy, free, and there is no obligation.