Global Reach and Carrier Neutral
We believe that customers should have full freedom of choice in carriers, which is why we are committed to being a carrier-neutral facility. With 8 diverse fiber entrances, our networks have over 300 fiber counts with multiple entrances into the facility. Our data centers connect you to carriers across Dallas, including but not limited to:
AT&T
Level 3
Century Link
Spectrum
FPL Fibernet
Verizon
Comcast
Sprint
Inner City Fiber
FiberLight
Global Crossing
China Telecom
Amazon
Internap
Zayo
GTT
Softlayer
NTT
XO Communications
Cogent Communications
Tata Communications
Hurricane Electric
Telia Sonera
Hibernia
Suddenlink
Google
Need help with IT and don't know where to go? 
Let's start by setting up a conversation and we'll go from there.
High Performance Blended Networks
For customers expecting a managed network with solid performance and SLA, we  provide blended network offerings with multiple and redundant 10G networks from top level carriers such as Level 3, NTT Communications and Telia Sonera. We invite you to our Looking Glass site to test drive our low latency network.
No matter where you might find yourself or which network you choose, we take the time to ensure you get the best service without exception. Both our Plano and Dallas, TX facilities have state-of-the-art equipment designed to ensure quality and reliability, and we stand by that promise.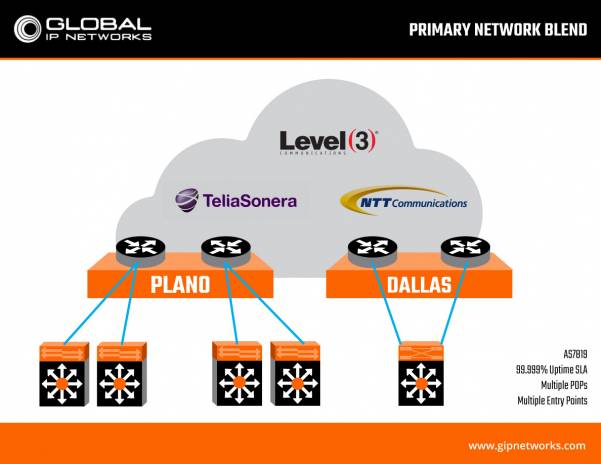 *This diagram may be updated from time to time without prior notification.