Subscribe to
IT Best Practices.
STAY CONNECTED
Cybersecurity Checklist: Is Your Cloud Storage at Risk?
With all the advancements technology brings us—like nearly unlimited cloud storage—there is, unfortunately, a dark side. For each advancement that makes it easier for you to communicate with customers and team members around the world or mine big data for the real-time information you need, there is someone that will attempt to violate the security of your network.
To protect your cloud services and all of your other digital information, you need to be constantly on top of all the new technology and aware of the threats posed to it. It is difficult for any individual, or even a small company, to keep up with. Many find it easier to outsource their cybersecurity to ensure that it is done correctly.
Before hiring outside help or tackling the issue of cybersecurity on your own, go through the following checklist to determine whether the security of your cloud server infrastructure is at risk.
Personnel Threats
Not all threats to your cybersecurity come through cyberspace. Some walk through your front door and access your information right under your watchful eye. Here are the best ways to avoid these problems.
Issue ID badges: This should include a photo of the employee as well as a clear indication of their level of access to your networks and cloud storage.
Check credentials: Ideally, there should be someone positioned immediately inside the door to your business to check the credentials of everyone entering, including service workers. Visitor badges should be clearly marked as such.
Background checks: These should be done for anyone who is granted access to your cloud infrastructure or any other area where information can be obtained.
Inadvertent Threats
Often, those who wish to infiltrate your cloud storage find ways into the system through mistakes made by your employees. Strong policies and regular training can help minimize these types of threats.
Secure Policies
Strong policies about internet usage and access to your cloud infrastructure make it very clear to all of your employees exactly what is and isn't acceptable. Having an expert in the field of cybersecurity create these policies will ensure that they are based on the most updated threats and will work effectively to match them.
Password use: The number one mistake that raises the risk of being infiltrated is poor password etiquette. Your company should have an established policy about how passwords are created, how often they are to be changed, and steps that should be taken to ensure that the same password is not used to access different networks or cloud data management points.
Personal device: Policies should be enacted to clearly define where and when personal mobile devices are allowed in the workplace.
Email: Policies regarding the proper use of personal and business email accounts should be drawn up.
Acceptable use: Policies should clearly state the types of internet use and access that are allowed when using company devices and/or while in the workplace.
Training ‌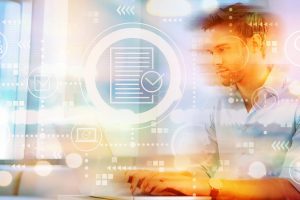 Just as your software needs to be updated regularly to stay effective and relevant, your employees will need regular updates regarding any new security policies or technology. This ensures that they are aware of current threats and know how best to avoid them.
‌
Training seminars or meetings should be held whenever there is an update to your existing cybersecurity technology. You should also hold meetings periodically just to reinforce the usage of the policies already in use. They should be led by people who are up to date on all of the newest technology and the latest threats.‌
Disaster Recovery
Just like every business should have a plan in place to help them recover from natural disasters like fires and floods, organizations should also have a plan in place to help them recover from a cyber disaster. This could include:
Hardware or software issues that put the security of your data at risk
A simple hacking
The ever-increasing risk of a ransomware attack
This plan should assign specific tasks to each team member and include ways to segregate networks and different areas of your cloud data management system from one another. If each person knows what his or her responsibilities are, rapid action can be taken to limit the damage done.
‌
Each person should be aware of and fully trained to take on their role in the event of a cyber disaster. Clear guidelines should also be set up as to how to maintain open and secure lines of communication—even if the network has been compromised.‌
Firewalls and Encryption‌
Any cybersecurity plan should include both effective firewalls and encryption software.
Firewalls
Firewalls prevent predetermined types of information from entering or leaving your networks or cloud storage. Often, multiple firewalls are used in conjunction to ensure greater security.‌
Encryption
Any business that uses a website should be SSL (Secure Socket Layer) certified. This software encrypts all interactions between the user and server. This end-to-end encryption not only keeps the information from being hijacked, but it also ensures that the data sent is the same as the data received. This allows your customers and employees to interact without fear of a data breach.‌
Getting Every Box Checked
‌Like most things in life, a plan is only as good as those who carry it out. If you have determined that your business needs increased cybersecurity, it is time to find the most effective, secure way to get that done. For many small to mid-size companies that simply don't have the budget for an IT department, this means finding an outside contractor. The stakes are too high to handle it yourself and hope for the best.
‌
Global IP Networks has the solutions you are looking for. They have been providing cost-effective and reliable cybersecurity services for 21 years and have the experience and know-how to ensure your cloud storage remains secure.
‌
They will conduct an advanced threat security check to determine what software or policy updates could improve your company's cybersecurity. They can also conduct a penetration test during which their IT specialists will attempt to hack into your systems and expose any vulnerabilities. This way, you can take appropriate action against any discovered weak spots.
‌
Once this is finished, they will present you with a fully-fledged plan that includes any software or hardware updates, training for your employees, and constant monitoring of new threats.
Contact Global IP Networks today to find out how they can help you check every box on your cybersecurity checklist.